At the 44th annual Bouchercon (a volunteer-run mystery convention for readers, writers, and
other publishing types), held September 19–21 in Albany, NY,  best-selling author Louise Penny scored a double-header, winning the 2013 Anthony and the 2013 Macavity Best Novel Awards for The Beautiful Mystery, a locked-room puzzler set in a remote monastery deep in the woods of Northern Quebec. It's Penny's fourth consecutive Anthony Award (which is voted on by Boucheron's attendees) and her fifth in total. Her debut novel Still Life also snagged an Anthony in 2007. And to top it off, Penny's new novel How the Light Gets In has just debuted at the #1 spot on the New York Times best-seller list.  Is the acclaimed writer now the Alex Rodriguez (minus the steroids, of course) of the mystery world? It would seem so, given the fantastic weekend Penny enjoyed.
While Penny dominated the awards, there were other notable winners at Bouchercon, including Edgar Award winner Chris Pavone (and LJ Day of Dialog spy fiction panelist) who scored an Anthony for his debut The Expats. The highlight of my goodie duffel bag handed out at registration is the galley of his next thriller, The Accident, coming next March. Can't wait to tuck into this one!
2013 ANTHONY AWARDS .
Best Novel: The Beautiful Mystery by Louise Penny (Minotaur: St. Martin's)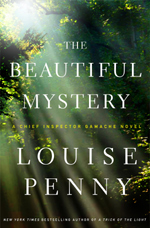 Best First Novel: The Expats by Chris Pavone (Crown)
Best Paperback Original: Big Maria by Johnny Shaw (Thomas & Mercer: Amazon)
Best Critical Non-Fiction Work:Books to Die For:The World's Greatest Mystery Writers on the World's Greatest Mystery Novels, edited by John Connolly and Declan Burke (Atria/Emily Bestler)
Lifetime Achievement Award: Sue Grafton
2013 MACAVITY AWARDS
Best Mystery Novel:  The Beautiful Mystery by Louise Penny (Minotaur: St. Martin's)
Best First Mystery Novel: Don't Ever Get Old by Daniel Friedman (Minotaur:St. Martin's)
Best Mystery Non-Fiction: Books to Die For:The World's Greatest Mystery Writers on the World's Greatest Mystery Novels edited by John Connolly and Declan Burke (Atria/Emily Bestler)
Sue Feder Historical Memorial Award: An Unmarked Grave by Charles Todd (Morrow)
2013 BARRY AWARD WINNERS
Best Novel: The Blackhouse by Peter May (Silver Oak) 

Best First Novel: A Killing in the Hills by Julia Keller (Minotaur: St. Martin's)
Best Paperback Original: Mr. Churchill's Secretary by Susan Elia McNeal (Bantam)
Best Thriller: The Fallen Angel by Daniel Silva (Harper)
2013 SHAMUS AWARD WINNERS
Best Hardcover P.I. Novel: Taken by Robert Crais (Putnam)
Best First P.I. Novel: Black Fridays by Michael Sears (Putnam)
Best Indie P.I. Novel: White Heat by Paul D. Marks (Timeless Skies Publishing)
Lifetime Achievement Award: Loren D. Estleman