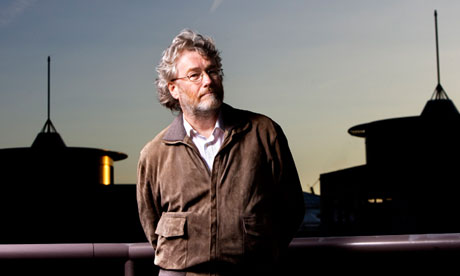 Two months after Iain Banks announced on his website that he had been diagnosed with terminal gall bladder cancer, the Scottish author of such acclaimed novels as The Wasp Factory  and The Hydrogen Sonata lost his brief battle on June 9 at the age of 59. Praised by William Gibson as "a phenomenon" and "fearlessly creative," Banks made his mark with a range of disturbing and brilliant nongenre books.
But he was also at home, noted Gibson, "writing pure science fiction of a peculiarly gnarly energy and elegance."
According to a Reuters obituary, Banks agreed with his editor to write two books a year after the success of his first novel, 1987's The Wasp Factory. Thus began his dual career as a writer of mainstream literary fiction and, under the Iain M. moniker, inventive and challenging sf, beginning with Consider Phlebas, which introduced The Culture, a galaxy-traveling society run by powerful but benign machines.
Hachette's Redhook imprint will publish Banks's final novel, The Quarry, on June 25. The U.S. publication date had been pushed up after news of the author's illness broke, and just three weeks ago in the UK his publisher presented finished copies  to the author. Banks began writing the book after his diagnosis in March; it is the story of the final days of Guy, a man dying of cancer, his 18-year-old son, Kit, and the friends who have gathered around them.
For a taste of Banks's literary talents, read "Under Ice, first published in Granta magazine's Best of Young British Novelists 2.