B edford, Lisa. Survival Mom: How To Prepare Your Family for Everyday Disasters and Worst-Case Scenarios. HarperOne: HarperCollins. Apr. 2012. c.320p. ISBN 9780062089465. pap. $19.99. SELF-HELP
Given the recent prevalence of floods, tornadoes, and power outages, this book (a companion to Bedford's blog, thesurvivalmom.com) comes at a good time. Bedford, mother of two homeschooled children, lists skills to learn (e.g., tying knots) and items to buy (e.g., extra toiletries). She discusses how to handle emergencies, from purifying water and storing food to making lists of financial records and establishing a safe room. The appendixes contain a wealth of checklists and resources. While readers may be overwhelmed by all the possible disaster scenarios, they would do well to prepare for any type of upset to the daily routine. [See also Bonnie Schneider's Extreme Weather: A Guide to Surviving Flash Floods…and Other Natural Disasters, reviewed on p. 129.' Ed.]
Blumenthal, Brett. 52 Small Changes: One Year to a Happier, Healthier You. AmazonEncore. Jan. 2012. c.380p. illus. ISBN 9781612181394. pap. $14.95. SELF-HELP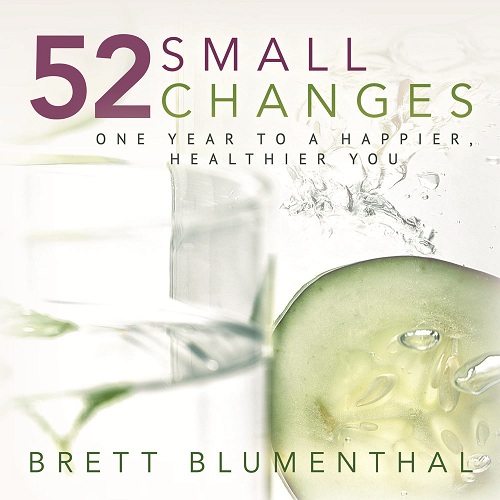 Positing that it's more effective to make small changes than to try to overhaul a lifetime of bad habits at once, Blumenthal (Get Real & Stop Dieting) offers readers small yet productive changes they can implement over 52 weeks to live healthier, happier lives. Chapter on topics such as Taking Time To Stretch and Spending Time in Nature include an introduction, a road map for change, and a weekly checklist. Blumenthal's book jumps ahead in the wellness genre as it breaks up necessary tasks into doable packages. Highly motivating.
Brett, Regina. Be the Miracle: 50 Lessons for Making the Impossible Possible. Grand Central. Jan. 2012. c.288p. ISBN 9781455500338. $22.99. SELF-HELP
Brett (God Never Blinks: 50 Lessons for Life's Little Detours) jump-starts readers to begin now to help make the world a better place. No need to tackle problems across the globe, she writes; readers can begin in the workplace or neighborhood, for instance, by speaking up on another's behalf. Organized like a Chicken Soup for the Soul title, this book is composed of 50 short chapters meant to inspire readers to be the person everyone can count on and even to do simple actions like leaving notes in a lunch box. It definitely has Christian underpinnings, but that needn't detract from the universal message. A feel-good book for everyone.
Conley, Chip. Emotional Equations: Simple Truths for Creating Happiness + Success. Free Pr: S. & S. Jan. 2012. c.256p. ISBN 9781451607253. $24.
Markman, Art. Smart Thinking: Three Essential Keys To Solve Problems, Innovate, and Get Things Done. Perigee: Berkley. Jan. 2012. c.272p. bibliog. ISBN 9780399537226. $25. SELF-HELP
The authors of these books use formulas to help readers understand and, thereby, take charge of their worlds. Conley (founder, Joie de Vivre Hospitality) offers what he terms emotional equations (e.g., joy equals love minus fear, and happiness equals wanting what you have divided by having what you want) to help identify and manage the elements that define life. He discusses such feelings as jealousy, regret, and despair in terms of their emotional components, so readers can get a clearer picture of a situation and cultivate a perfect emotional potion. On the other hand, Markman (psychology & marketing, Univ. of Texas, Austin) suggests that the formula for smart thinking includes three parts: first, to have smart habits that, second, allow one to acquire high-quality knowledge and, third, the capacity to use that high-quality knowledge when needed. Markman shares tips and exercises for the development of smart thinking, such as breaking bad habits, paying attention, and strengthening memory. Both titles present interesting looks at common problems, but neither is extraordinary.
Craig, Steven. The 6 Husbands Every Wife Should Have: How Couples Who Change Together Stay Together. S. & S. Feb. 2012. c.336p. ISBN 9781439167984. $24.99. SELF-HELP
At first glance, many reading this title might think, One is enough. In fact, clinical psychologist and radio host Craig is talking about six stages of marriage, in which both partners must change to thrive together. Using case studies, exercises, and charts, Craig offers communication tools, rules for intimacy, and ideas for all the stages from adjusting to parenthood to growing into the golden years. It's a compelling read, and the author brings up almost every difficult scenario that can derail a couple's life together. Great for all couples in long-term relationships and those who hope to have one.
Duhigg, Charles. The Power of Habit: Why We Do What We Do and How To Change It. Random. Mar. 2012. c.400p. bibliog. ISBN 9781400069286. $28. SELF-HELP
According to Duhigg (investigative reporter, New York Times), if people can understand how behaviors became habits, they can restructure those patterns in more constructive ways. He presents information on habit formation and change from academic studies, interviews with scientists and executives, and research conducted in dozens of companies. Three sections deal with the neurology of habit formation in individuals, the habits of successful companies and organizations, and the habits of societies and tough ethical issues. Duhigg offers a fascinating analysis for the college-educated reader. [See Prepub Alert, 9/11/11.]
Hammerness, Paul, M.D., & Margaret Moore with John Hanc. Organize Your Mind, Organize Your Life: Train Your Brain To Get More Done in Less Time. Harlequin. Jan. 2012. c.272p. bibliog. index. ISBN 9780373892440. pap.$24.95. SELF-HELP
Hammerness (psychiatry, Harvard Medical Sch.) and Moore (codirector, Inst. of Coaching, McLean Hosp.) have joined their areas of expertise to help people overcome mental disorganization, distraction, and the resulting side effects of stress, anxiety, and frustration. Hammerness explains the neuroscience of brain organization while Moore coaches readers to regain order by sustaining attention, applying the brakes, connecting the dots, and so forth. Readers will be able to relate to case studies and the all-too-common problems of chronic lateness, inability to focus, and chronic clutter. Those willing to work hard to gain more sanity in their lives will find help here.
Kabat-Zinn, Jon. Mindfulness for Beginners: Reclaiming the Present Moment' and Your Life. Sounds True. Jan. 2012. c.120p. ISBN 9781604076585. $21.95 with CD. SELF-HELP
In his latest book, Kabat-Zinn (founder, Stress Reduction Clinic & Ctr. for Mindfulness, Univ. of Massachusetts Medical Sch.) simplifies the approach to mindfulness he presented in his notable Wherever You Go, There You Are and makes it more inviting for beginners. He provides mindfulness teachings and over 40 practices for those interested in meditating to reduce stress, reenergize the body, clear the mind, and bring compassionate attention to situations and relationships. Kabat-Zinn thoroughly discusses the how-tos of mindfulness and offers several guided meditations with an accompanying CD (not heard by this reviewer). The brief, straightforward chapters make this book a valuable entry point for meditation novices.
Kirshenbaum, Mira. I Love You but I Don't Trust You: The Complete Guide to Restoring Trust in Your Relationship. Berkley: Penguin Group (USA). Feb. 2012. c.304p. ISBN 9780425245316. pap. $15. SELF-HELP
Whether one is recovering from a major betrayal, a lack of openness, or a history of hurts, psychotherapist Kirshenbaum (When Good People Have Affairs) argues that couples can avoid the mistakes that prevent healing and feel secure with each other once again. She uses her own and others' experiences as well as psychological research to show how mistrust enters a relationship (e.g., unequal power), how trust can be restored, and how to safeguard a relationship so it will never happen again. Kirshenbaum also includes an assessment of whether a relationship can be saved. This book will offer a secure foothold to anyone who is feeling betrayed but wants to hang in there.
Klein, Marty. Sexual Intelligence: What We Really Want from Sex and How To Get It. HarperOne: HarperCollins. Feb. 2012. c.256p. ISBN 9780062026064. $25.99. SELF-HELP
Pursuing sexual expectations that are decades out of date with a body and lifestyle that can't support that vision isn't dysfunction; it's a culturally and psychologically driven mistake. So writes Klein, licensed marriage/family therapist and certified sex therapist, as he proposes a new way of thinking about sexual activity' to leave behind sexual baggage and learn to approach this area of life with awareness, openness, and renewed optimism. He uses his clinical experience and numerous case studies to demonstrate how creating a lasting physical and emotional connection with a partner is so much more important than orgasms. While Klein writes primarily for those over the age of 30, he offers a fresh, commonsense approach that can help most people in long-term relationships.
Pugh, Paula. Celebrating Beginnings and Endings. Sound Wisdom. (Mark the Moment, Bk. 1). Feb. 2012. c.280p. illus. ISBN 9780983704324. pap. $19.95. SELF-HELP
Simply said, this book is about observing special moments in life without the usual overspending. Pugh uses her experience as a facilitator of women's growth circles to show readers how to set the stage for celebrations marking the starts (e.g., births, graduations), transitions (e.g., coming of age, taking on a new role), and endings (e.g., miscarriage, terminal illness) in life. Each celebration guide incorporates steps for exploring options, planning what to do, and letting expectations go in order to maximize the enjoyment of the moment. A warm, inspiring collection of ideas.
Wright, H. Norman. What's Next?: Navigating Transitions To Make the Rest of Your Life Count. Bethany. Mar. 2012. c.192p. ISBN 9780764209635. pap. $12.99. SELF-HELP
Therapist and trauma specialist Wright (psychology, emeritus, Biola Univ.) believes that cresting the hill no longer means being over the hill. Writing primarily for baby boomers and beyond, he discusses ways to navigate the changes that happen to everyone' e.g., aging parents, job loss or change, retirement home living' in terms of opportunities for growth. He stresses the necessity of modifying outlook and planning for a path different from what many expect. Wright's book will be a hit with religious readers but will require some mental modification for nonbelievers.
Yates, Jon. What's Your Problem?: Cut Through the Red Tape, Challenge the System, and Get Your Money Back. Morrow. Jan. 2012. c.272p. bibliog. ISBN 9780062009883. pap. $14.99. SELF-HELP
Yates compiles the advice from his Chicago Tribune column, What's Your Problem? to help you overcome your problems and get results. According to Yates, it's all about knowing what prods utility companies, what motivates government officials, how customer service works, and how airlines are held accountable. He has helped readers solve myriad problems from correcting a misspelling on a tombstone and contesting a traffic ticket to dealing with unscrupulous home-improvement contractors and fixing an incorrect credit report. Yates provides over 20 pages of addresses, phone numbers, and websites for consumer assistance in a variety of areas. A timely, valuable reference.