Benjamin Busch chose words from his father, fiction writer Frederick Busch, as the epigraph to his own beautifully told book, Dust to Dust.
Stories are…the heartfelt prayer, the valiant promise, that what we have loved might live forever.
What better reason to write a story or a memoir? This month's writers (well, most of them) took something dear to them and tried to give it a bigger, longer life by writing about it. A house, a marriage, a life, a country' nothing's really gone if we're still thinking about it, right?
Busch, Benjamin. Dust to Dust: A Memoir. Ecco: HarperCollins. Mar. 2012. 320p. illus. ISBN 9780062014849. $25.99. MEMOIR

Actor (The Wire), director (Tribeca Film Festival' pick Bright), writer (Pushcart Prize nominee), soldier (Purple Heart' awarded Marine), and son of fiction writer Frederick Busch, Benjamin Busch lives life to the fullest. In chapters organized by basic elements of the natural world' water, stone, dust, blood' he delivers a meditation on the passing of time and his life as a child, student, and soldier. He makes as good an argument for the value of art in the face of life and death as readers will see for a long time. VERDICT There is not one bad sentence in this book. Translucent prose carries each section, and the chapters line up in a beautiful array, much like the soldiers or stones Busch describes so well. I cannot wait to see what he writes next.
Howard, Beth M. Making Piece: A Memoir of Love, Loss and Pie. Harlequin. Mar. 2012. 320p. ISBN 9780373892570. $24.95. MEMOIR
Reeling after the death of her beloved but estranged husband, the author, in this debut title, begins a journey to figure out how to live the rest of her life. Happy childhood memories of comfort and home lead her to center her cross-country RV trip on one of its simple pleasures: pie. Howard chronicled her travels as a pie evangelist on her blog, theworldneedsmorepie.blogspot.com, as she carried her message from the nation's highways to television screens. Howard seems sincere about the good pie that does, and her recipes at the end of the book provide readers with the chance to join the movement. VERDICT Howard lives in the American Gothic house made famous by Grant Wood's painting. Wood's famous work is more ambivalent than Howard's, however: her book is enthusiastically all-American. Maybe she's right' wouldn't we all be happier after a slice of her mother's legendary Banana Cream Pie?
Kotkin, Carlos. Please God Let It Be Herpes: A Heartfelt Quest for Love and Companionship. New American Library: Putnam. Mar. 2012. 304p. ISBN 9780451235718. pap. $15.00. MEMOIR
In his first book, standup comic Kotkin writes a laundry list of all the women he's loved and lost (where, in some cases, loved is code for admired wistfully from afar). Though he is self-deprecating throughout, he recounts a lifetime of romantic misadventure in the hopeful tone of a true romantic. Whether or not readers will sympathize with the wounds of the psyche, libido, and health Kotkin enumerates will depend on whether readers can believe some of his more credulity-stretching stories. VERDICT This is not great literature' it's the story of a guy on the frontlines of the wars of the heart. Kotkin pulls no punches about how big a goofball he is, but this might be another one of his seduction techniques.
Mosher, Howard Frank. The Great Northern Express: A Writer's Journey Home. Crown. Mar. 2012. 256p. ISBN 9780307450692. $25.00. MEMOIR.
Confronted with prostate cancer and the effects of its treatment, New England novelist Mosher (Walking to Gatlinburg) does what comes naturally: he embarks on a 20,000 mile, cross-country book tour in a 20-year-old monstrosity of a car. His homespun roadside reports reveal some truths about independent bookstores and budget motels around the country but more about Mosher himself, his long marriage, and his impressive ability to attract unusually colorful travel companions. VERDICT In another era, Mosher would have been called a raconteur. While at times it's like an updated version of John Steinbeck's Travels with Charley, Mosher's book spends a fair amount of time and space discussing the value of storytelling in life and in recovery. The book's tone makes it seem as if it were sent to us from an earlier, gentler, time.
Shroeder, Charlie. Man of War: My Adventures in the World of Historical Reenactment. Hudson Street. May 2012. 288p. ISBN 9781594630910. $25.95. MEMOIR.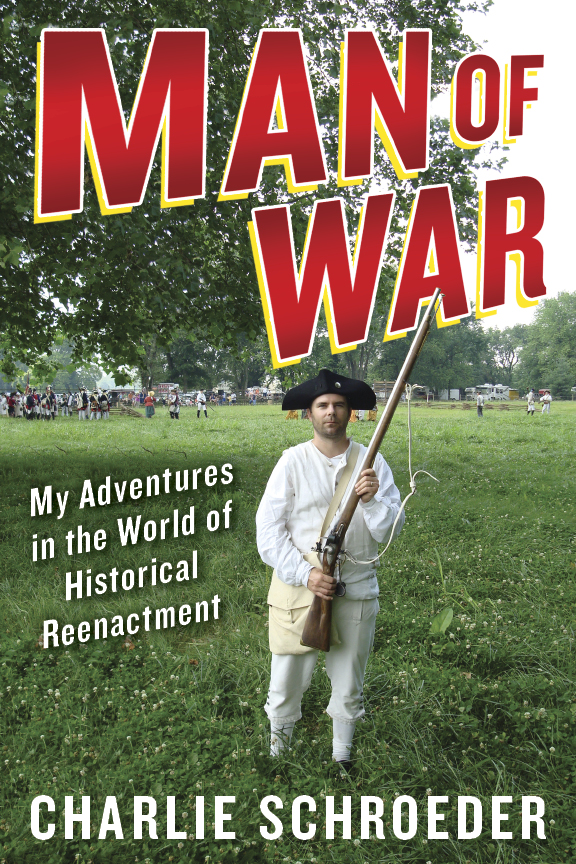 Actor and NPR contributor Shroeder becomes a man of history on the weekends when he joins a series of historic reenactments across the country. After participating in recreations of the Battle of Stalingrad, the Tet Offensive, Civil War engagements, and many other skirmishes and routs, Schroeder sheds insight into what makes reenactors put up with the filth, discomfort, and indignity of wars they don't have to fight in this comic look at a hobby which mystifies many. VERDICT Schroeder is the George Plimpton of historical reenactment. His bizarre experiences with some reenactors will likely convince readers of the merits of home and hearth versus tent or barracks, but all will learn a little history by osmosis and have fun doing so. Some of the reenactors here (and their motivations) are just plain scary.
Tanner, Ron. From Animal House to Our House: A Love Story. AcademyChicago. 2012. 288p. illus. ISBN 9780897336246. $24.95. MEMOIR.
The faded allure of a dilapidated, former fraternity-owned Baltimore brownstone mansion built around 1897 was too much for novelist Tanner (writing, Loyola Univ., Maryland; Kiss Me, Stranger: An Illustrated Novel) to resist. Armed with a tight deadline and a small budget and without mechanical expertise or clear plan, Tanner and his new girlfriend undertook a renovation project that would frighten away most contractors. The nuts and bolts of the project are detailed lovingly here' in words and hand-drawn illustrations' as well as the pair's evolution from dating renovators into married homeowners. VERDICT The scale of their project is intimidating and will likely discourage more ambitious home-renovators than encourage them. Tanner's fixation on the house and its renovation gave him a chance to repair some issues in his own life, and that personal story is the book's most compelling.